As we approach March 8th, International Women's Day, it is a critical time to reflect on the importance of gender diversity in tech companies. While this issue should be a focus every day, the occasion provides an opportunity to further raise awareness and drive change.
Even though the tech industry continues to thrive overall and the future ahead is bright, there are still significant opportunities to invest and overcome persisting gender diversity and equality issues. The numbers still show that women are underrepresented in leadership positions and technical roles.
According to a report by McKinsey & Company, women account for only 28% of the workforce in the technology industry. Lack of diversity not dramatically impacts women's career opportunities and also has a negative impact on businesses' bottom line. McKinsey & Company's report shows that gender-diverse companies are 15% more likely to outperform their peers.

Something just doesn't add up.
We believe that improving gender diversity in the tech industry is a serious issue that requires more urgent attention. Join us as we explore how the tech industry can improve gender diversity and create a more inclusive and innovative future.
Benefits of Gender Diversity in the work place
Gender diversity has numerous benefits in the workplace, that can increase start-ups and tech companies success, including:
Diverse teams bring different perspectives and experiences, resulting in better decision-making, problem-solving and innovative solutions.
Diverse teams can create products and services that better reflect the needs and preferences of a wider range of customers. Because gender diversity in the workplace can help companies better understand and serve their diverse customer base.
Reduced groupthink: Diverse teams are less likely to fall into groupthink, where individuals conform to a consensus rather than expressing unique ideas and opinions.
Increased competitiveness: Diverse teams can create more innovative and unique products, which can give companies a competitive edge in the market.
Gender-diverse teams can create a more positive and inclusive work environment, leading to increased job satisfaction among employees. This also can lead to improving the brand reputation.
Gender-diverse teams can reduce costs by minimizing turnover and increasing productivity and efficiency.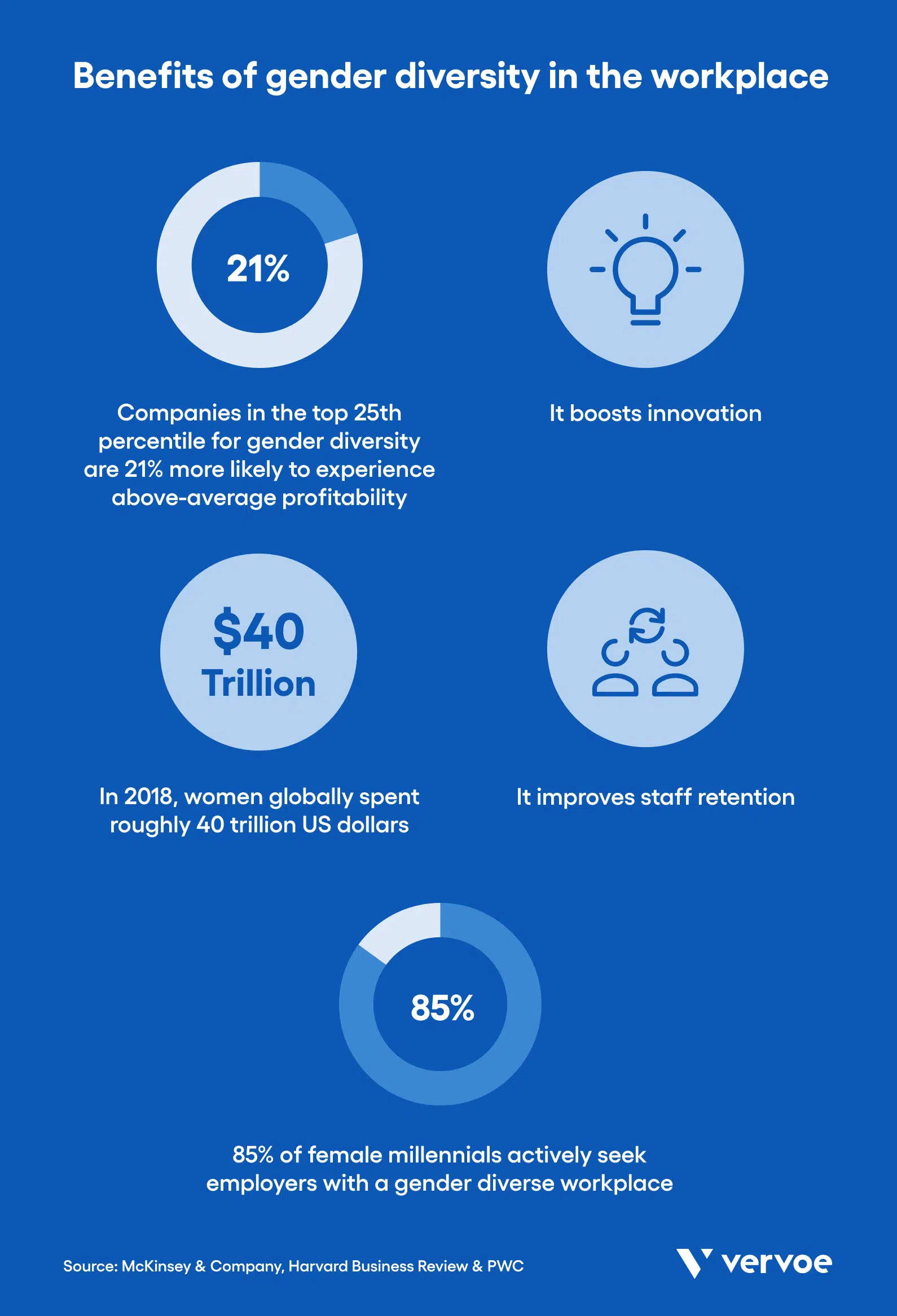 Challenges and Barriers to Achieving Gender Diversity in Tech Company and Start-ups
Due to a patriarchal culture, there are still challenges to be fought for companies to achieve gender diversity, such as
Stereotyping and assumptions about gender roles and abilities
Companies hiring and promotion based on "culture fit" rather than skills and qualifications
Unconscious bias in job postings and language
Tech being viewed as traditionally male-dominated industry
Pressure to conform to masculine norms and attitudes
Stigma against taking parental leave or other time off for caregiving responsibilities
Lack of transparency in promotion and compensation decisions
Underrepresentation of women in leadership positions and on boards of directors
Women may face pay and promotion disparities, which can make it harder for them to advance and be recognized for their contributions
Strategies to Increase Gender Diversity in Tech Companies and Start- ups
To make strides towards overcoming these obstacles, start-ups and tech companies can implement several strategies and tactics, such as:
Setting clear diversity and inclusion goals:
Establishing measurable diversity and inclusion goals for the company
Add gender diversity to the company culture and values
Conducting bias-free recruitment and promotion processes:
Removing gendered language from job postings and descriptions
Using blind screening techniques to eliminate unconscious bias in the recruitment process
Providing diversity training for hiring managers and interviewers
Providing equal opportunities for growth and development:
Offering mentorship and sponsorship programs for women and other underrepresented groups
Providing equal access to training and development opportunities
Implementing a performance review process that is fair and unbiased
Establishing a supportive and inclusive work environment:
Encouraging and supporting employee resource groups (ERGs) focused on gender diversity and inclusion
Implementing policies that promote improved work-life balance and providing caregiving support for working parents, regardless of gender
Providing a safe and respectful workplace free from harassment and discrimination
Implementing employee wellness programs and benefits to support overall well-being
Success Stories
Meet the companies that are making strides towards improving gender diversity.

These companies serve as examples of what can be accomplished with a commitment to diversity and inclusion.
One such company is Adobe, which has made diversity and inclusion a priority. As a result, they have achieved a diverse workforce, with women making up 35% of their global workforce and 29% of their executive team. Additionally, they have committed to achieving gender pay parity by the end of 2020, demonstrating their commitment to gender equality.
Google is another company that has made significant strides in improving gender diversity. They have implemented initiatives such as unconscious bias training, increased maternity leave and family leave policies, and programs to support women in technical roles. Their efforts have resulted in an increase in the percentage of women in technical roles from 17% in 2014 to 24% in 2019. This shows that even small changes in policies and procedures can make a significant difference.

In 2021, Google launched the Google.org Impact Challenge for Women and Girls. The challenge, launched in partnership with Vital Voices and Project Everyone, was an open call to organizations that create pathways to prosperity for women and girls. Thirty-four organizations have been selected and will receive between $300,000 and $1 million in funding, plus opportunities for mentorship and additional support from Google.
Intuit is another company that has made diversity and inclusion a priority. They have established employee resource groups to support underrepresented groups, including women in technology, and have set a goal of achieving 50/50 gender representation in leadership positions by 2020. As of 2020, they have achieved gender parity in their board of directors, demonstrating their commitment to gender diversity at all levels of the company.

Salesforce has also made significant progress towards improving gender diversity in their workforce. Their efforts have included a Women's Network to support female employees, a mentorship program for women in technical roles, and a commitment to equal pay for equal work. In 2017, they achieved 100% gender pay parity for their global workforce, demonstrating their commitment to gender equality. And the company still investing in different programs that aims at diversity and gender equality.
Etsy is another company that has made progress towards improving gender diversity. They increased the percentage of female engineers from 19% to 34% in just one year by implementing a more structured and objective hiring process. This shows that companies can make significant progress in a short amount of time with the right strategies and commitment.
We embrace differences.

Diverse teams are stronger, and inclusive cultures are more resilient. When we seek out different perspectives, we make better decisions and build better products.

Cisco is another company that has made a commitment to improving gender diversity. They established a goal to increase the percentage of women in leadership roles to 25% by 2025 and have made progress towards achieving that goal. Their efforts demonstrate that companies can make a significant difference when they make diversity and inclusion a priority.
These success stories are encouraging, but there is still more work to be done. While these companies serve as examples of what can be accomplished, the tech industry as a whole still has a long way to go towards achieving gender equality. By continuing to prioritize diversity and inclusion, we can make the tech industry a more equitable and inclusive space for all.
Gender diversity is essential for the success of start-ups and tech companies, well really all companies. We may be a small team at Tabbris, but we can speak from our own perspective that having women in managerial positions has brought us different perspectives, experiences, and ideas, which can lead to better decision-making, innovation, and ultimately better business outcomes.

Overcoming the challenges and barriers to achieving gender diversity requires a commitment from leaders and a willingness to implement strategies that foster an inclusive workplace. It's hardwork and it's worth it, for the people on your teams and the company as a whole. By prioritizing gender diversity, companies can create a culture that attracts and retains top talent, serves their diverse customer base, and positively impacts their bottom line.

We urge companies to take action towards achieving gender diversity and inclusion, and we believe that together we can create a more diverse and equitable tech industry.